(An odd time for me to blog, my lunch break!)
Question #1 - Who is the black sheep in your family / group?
I guess I was, for a time, and I'm quite proud of it, actually. Other than that, I can't think of a specific person  that I would call 'the black sheep'. I mean, there's always an uncle or a brother-in-law who doesn't work or takes advantage -or even some money- from you (a "
garca
", as we would say in Argentina). But even if I knew of a specific person in my family I could call a black sheep, I wouldn't identify him or her in here. My family reads this blog, so there's no need to worry, Fafa. :-)
Question #2 - If you were a character from a book, what character would you be?
Interesting. The kind of questions I would never ask myself. I would like to be this guy,
Patoruzú
(one of the oldest and most known comic strip heroes in my country). He is a chief of the
Tehuelche
tribe in the Patagonia, who is obscenely rich, but has a heart of gold (and did I mention superhuman strength?).

(from tebeosfera.com)
I would buy and treasure these magazines! My brother still has some at his house in Virginia
Technically, he's a character from a book, because they would publish a book every December. He would ride his horse called "Pampero" (like the name of the Patagonian wind).
He also had a 'kids' version of his magazine, called "Patoruzito" (hence the horse's name would be "Pamperito"). Pamperito is actually my nick whenever I'm on a chat room or places like that...
There were two "Patoruzito" movies already (in recent years) and they were both quite successful.
Question #3 - What's your favourite accent?
Besides mine? I wrote a post not long ago in which I mentioned that some people think I have the heaviest, most brutal accent ever, and others think I'm from New England... I guess my favourite accent of all times comes from
this man
: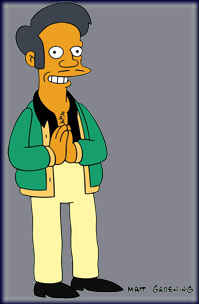 I'm done with today's Manic Monday. Thank you, come again! :-)
UPDATE!
After having read
Laane
's
Manic Monday post
, where she mentions the Scottish accent, I remembered this Jim Breuer video I'm subscribed to on
YouTube
. I hope you like it!
Manic Monday